Amadeus on Sonoma and Apple Silicon
The latest version (2.8.13) is fully compatible with macOS Sonoma and runs smoothly on Apple Silicon Macs.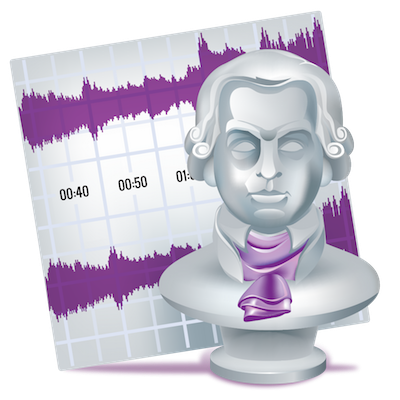 The swiss army knife of sound editing
Overview

Amadeus Pro is a powerful multitrack audio editor supporting a variety of formats including MP3, AAC, Ogg Vorbis, Apple Lossless, AIFF, Wave and many others. Click on one of the thumbnails below to see a larger version of it.

Multitrack Editor

Amadeus Pro is a fully featured multitrack editor. Each track can have its volume and panning adjusted independently from the others. Each track can be split into multiple audio clips that can easily be dragged independently of each other. Furthermore, Audio Units can be applied to individual tracks in real-time without requiring any destructive editing.

Batch Processing

There's that whole collection of files that you wanted to convert to Mp3, but you first wanted to normalize them and make them fade in and out nicely. Several hours of work in perspective? Let Amadeus Pro do the work for you! The powerful batch processor allows you not only to convert large numbers of files between any of the supported formats, but you can also instruct Amadeus Pro to apply any sequence of sound effects.

Repair Centre

The handy repair centre allows you to find and to repair cracks with a simple click of the mouse. Furthermore, Amadeus Pro's powerful denoising functions allow you to easily get rid of that annoying hiss on your old tape recordings or of that 50Hz hum picked up by a badly insulated microphone.

What do users of Amadeus Pro say about it?

I just completed a show in Las Vegas for the acclaimed producer Jean Ann Ryan. [...] She needed me to be able to edit and playback on the fly for three days, to include a live show on the third evening. Normally I'd use Pro Tools, but this time I decided to give Amadeus Pro a try. Not only was I able to to give Jean Ann everything she asked for, edit after edit, I even ran the entire live show from it. I used two macbooks, (one as a back-up). We did the show which was 42 minutes flawlessly. I was amazed! Thanks Martin! Great job! Keep up the good work, I'm sold!

- Rob Kaz

[Amadeus] has an amazing breadth of abilities, combining serious power with delightful simplicity, at an astonishingly low price. To use it is to love it.

- Matt Neuburg, TidBITS

Amadeus Pro takes an already excellent program to a whole new level. With a completely revamped interface, large file editing capabilities, and multi-track functionality, amongst many other new features, Amadeus Pro is an incredible sound editor.

- Joshua Wachs, Macintosh News Network

Features

This page contains a non-exhaustive list of features of Amadeus Pro. It is intended to give you a flavour of its amazing possibilities, but of course nothing is worth the real thing, so please, by all means, download it and try it out by yourself. Don't forget that a manual is available from the "Help" menu in the program.

Convert vinyls or tapes to CD

Amadeus Pro's powerful denoising and repairing functions make it easy to remove that annoying hiss on your favourite tape recordings or the scratch on that old vinyl recording.
Split your recording into multiple tracks with one handy function, for use by iTunes for example.
Burn your recording to an Audio CD straight away from within Amadeus Pro with a simple click of the mouse.
Dedicated equalizers make it easy to get the original sound back from very old recordings.

Powerful batch processing functions

Converts to and from the following file formats: Amadeus, AIFF, WAVE, Mp3, Ogg Vorbis, Mp4, M4a (AAC and Apple Lossless), FLAC, Apple CAF, QuickTime, SoundDesigner II, Next, Mp2 (reading only).
Allows you to apply arbitrary sequences of sound effects to a collection of files.
Preserves metadata (artist, song title, album cover, etc) even across formats, provided that the format supports metadata.

Sound effects

Full support for both Audio Unit Plug-Ins means that the functionality of Amadeus Pro can be extended and tailored to suit your particular requirements perfectly.
The most commonly used effects (multiband graphic equalizers, volume normalization, fade in/out, echo, speed and pitch change, etc) are built into the program and therefore benefit from a nice MacOS X - like user interface.
Amadeus Pro allows you to maintain a list of favorite actions, so that your commonly used tasks are always only one mouse click away.

Analyzing functions

Create high quality sonograms or spectrum analyses for professional or amateur use.
The many real-time analysis tools of Amadeus Pro make it the perfect pedagogical tool for explaining the physics of sounds.
Extensive waveform statistics.

FAQ

Please click any question below to see the answer.

Download

To download one of the software packages available on this page, just click on the corresponding link, the download should start automatically.

Download Amadeus Pro 2.8.13 for macOS 10.10 or later

Older versions

The current version of Amadeus Pro requires macOS 10.10 or later and runs only in 64 bit mode.

Amadeus Pro 2.6.2 is the last version to run in 32 bit mode and is available here.

Amadeus Pro 2.3.1 is the last version to run on Mac OS X 10.6 and is available here.

Amadeus Pro 2.0.8 is the last version to run on Mac OS X 10.5 and is available here.

Amadeus Pro 1.x will run on Mac OS X 10.4 and is still available here.

Amadeus Pro supports a variety of Plug-Ins. It is compatible with the popular VST format, as well as with Apple's Audio Units. A few free Plug-Ins can be downloaded below.

Note that the software available further down on this page has not been developed by HairerSoft. User reports indicate that these Plug-Ins are compatible with Amadeus Pro but no exhaustive testing has been performed.

Free Audio Units

A collection of free Audio Units can be downloaded by clicking on the following link:

You can find more free plug-ins at Destroy FX, at Sound Consulting, and on Michael Norris's website. Hundreds of other Audio Unit plug-ins are available from third-party vendors.